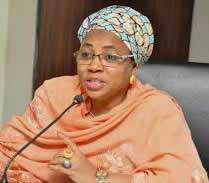 Mrs. Karima I. Babangida, is Director, Federal Department of Agricultural Extension (FDAE).  In this capacity she provides leadership in agricultural extension development and delivery in the country.  Her duties also involve gender mainstreaming, policy formulation, development and implementation of programs on empowerment of women, youth and vulnerable groups in agriculture.
She is the Agric Focal Lead for Growing Girls and Women in Nigeria (GWIN), a special intervention programme targeting economic empowerment of women financed by the Federal Government.  She led the team that prepared the Youth Employment in Agriculture Programme (YEAP) under technical assistance of FAO and served as National Project Coordinator for the FAO assisted Strengthening Capacity to Implement the Youth Employment in Agriculture Programme (YEAP).
Prior to this assignment, she worked in Agro-Processing and Marketing Department where she served as the Assistant Coordinator of Coalition for African Rice Development (CARD) Initiative, a continent-wide Japanese Government assisted programme that produced the National Rice Development Strategy (NRDS) document that laid the foundation for the Rice Transformation Agenda of the nation.  She served as the Assistant Coordinator for the Rice Post Harvest, Processing and Marketing Project (RIPPMAP) in Nasarawa and Niger States funded by the Japanese International Cooperation Agency (JICA).  She also worked with the Japanese Government Consultant to conduct a countrywide study on rice prior to the commencement of RIPPMAP.  Before then, she worked in Federal Department of Agriculture (FDA) on Japanese KR-2 Project, Conservation Tillage Farming Rice Box Project, and National Agricultural Quarantine Service (NAQS).  She served as the Secretary for Presidential Initiative on Rice from 2001 to 2003 and represented the Ministry in the Inter-Ministerial Committee on Rice Price Benchmarking for 5 years. Mrs. Karima I. Babangida is an agronomist and alumnus of Ahmadu  Bello University Zaria.