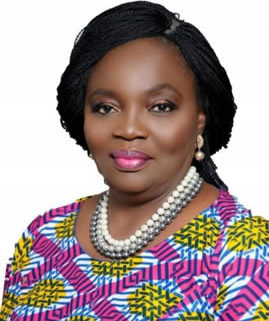 CEO CONTACT CONSULTING NIGERIA
PROGRAMME DIRECTOR AGRAINNOVATE WEST AFRICA
Folusho started her career in the food industry as a management trainee with A.G.Leventis Nigeria. Plc. in 1988. She resigned from Leventis foods as Head of Sales and Marketing in 2005, to take up an appointment with UTC Nig Plc and later became Managing Director/CEO in 2007;a post she held  till 2012 Folusho collaborated with the Federal ministry of Agriculture and rural development  on the Agricultural transformation agenda, to pioneer the commercialization of 20% cassava flour inclusion in bread and pastries. She resigned to set up Contact Consulting Nig. Ltd; a Research, Business advisory, Marketing support services and investment promotion organization, focused on Agricultural value chain development and investments in 2013.
She served as consultant/ market analyst to Partnerships In Niger Delta PIND project on the Cassava scoping study 2014. She also served as strategy consultant to CAVA Cassava Adding Value for Africa; a Bill and Melinda Gates funded project, headquartered at the Federal University of Agriculture , Abeokuta, Nigeria ,in 2015.
Folusho served as an expert consultant to Dalberg Global advisors on the IDH Market study on commercial opportunities in commercial cassava production in Nigeria in 2015. Folusho also served as Business Development and Marketing consultant/Adviser to MADE (Market For Development in The Niger Delta), funded by DFID through DAI UK. Folusho also served as a consultant to Palladium Group United Kingdom, on the West Africa Food Markets Pilot Programme, which launched a £1 million pounds  grant in 2016. Folusho served on the judging panel of the Rockefeller foundation Cassava Yieldwise $1million dollars Challenge set up in 2016 to promote innovation in cassava post harvest practices.
Folusho is a member of the project advisory committee of BASICS-(Building an Economically Sustainable, Integrated Seed System for Cassava In Nigeria) , a 4 year project (2016-2019) funded by Bill and Melinda Gates foundation, and coordinated by the Consultative Group for International Agricultural research CGIAR's Research program on Roots, Tubers, and Bananas RTB. The Project partners include Food and Environment Research Agency of the United Kingdom, and International institute of Tropical Agriculture IITA.
Folusho served as a consultant to the World economic forum Grow Africa project in 2016, on the scoping study and data assessment of maize , soya bean,and coffee sectors in Tanzania,Ghana, and Ethiopia.
In 2017 Folusho served as primary consultant  to Grow Africa, in the compilation of Rice fact sheets for ECOWAS countries in preparation for the AGRA investment forum in Abidjan, Cote D'ivoire. Grow Africa is a partnership platform cofounded by the World Economic Forum, that seeks investments and transformational change in African agriculture. This platform has broad support of USAID, and works closely with African governments and the African Union. Contact consulting Nigeria is the conference partner to Agrainnovate West Africa, funded by Informa group UA. Contact Consulting Nigeria is also the partner to Nigerian Agricultural seed council on the Seedconnect Africa project.
Folusho is a fellow of the Chartered Institute of Marketing UK, and a member of the Institute of Directors. She holds a Masters degree in Public Administration from the University of Lagos, Nigeria, and a professional postgraduate Diploma in Marketing from the Chartered Institute of Marketing, Cookham, United Kingdom. She has attended two fellowship programs of the United States Department of Agriculture USDA, on Women in Agriculture, and snack food development at the Iowa state University USA between 2015 and 2017 earning her a  Cochran fellowship of the United States Department of Agriculture USDA. Folusho is a member of the International Food and Agribusiness Management Association, USA.
Folusho is the current program Director of Agra innovate West Africa, an annual conference funded by Informa Group UK and UAE. Informa is the world's largest publicly quoted exhibition company. The Agrainnovate agribusiness trade show and conference is an annual knowledge sharing and business partnerships/ deal making platform attended by 3,000+ visitors from over 20 countries across the globe. Testimonies of economic empowerment and sustainable partnerships have accrued from beneficiaries of this project.
In recognition of Folusho's contributions to the Nigerian food industry, she was awarded National honours of Officer of the Order of the Niger (OON) in September 2014 by the President and Commander in Chief  of the Federal Republic of Nigeria.